Course details
【Casual WD Second Order Plan】 DELI · Appetizer · Pasta · Dolce etc 11 items + 2 hour drink all you can 4000 yen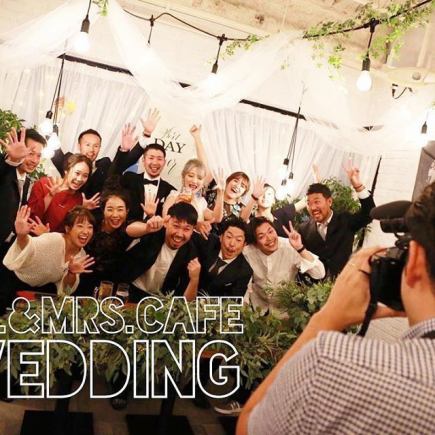 All-you-can-drink available

All you can drink as part of a coupon from 1980 yen to 1500 yen! Each course has all you can drink!
Reservation deadline

Coming to a store up to 5 days before 23 o'clock in the desired date
Available days for reservation

Monday - Sunday - Public holidays - Holidays
Mike projector equipped ☆ Maximum of 60 people in seated buffet style, maximum seating buffet style can accommodate 80 people! It is also recommended for parties.
Course menu
【Casual WD Second Order Plan】 DELI · Appetizer · Pasta · Dolce etc 11 items + 2 hour drink all you can 4000 yen
~ Example ~
◇ Deli 6 species
· Deep-fried young hare
· Involtini of pork belly and yam
· White beans and lentils bean tuna salad
· Asian yam noodles
·pickles
- Frittata
◇ Appetizer today
· Caprzeze of water buffalo mozzarella
· Mini pizza (content auto)
◇ food
· Chef Recommended Risotto
· Today's pasta (short pasta)
◇ dessert
· MR & MRS.CAFE special dolce
※ There is a possibility that contents change according to seasons.
All-you-can-drink menu
·draft beer
THE Maltz
·wine
Red / white
·Whisky
· 【Suntory angle】 rock / water split / high ball / cork high ball / ginger high ball
· Cocktail (Please choose one to divide from soft drink)
· Jin / Vodka / Tequila / Lamb / Cassis / Peach / Campari / Calua
·Non-alcoholic
· Berry soda / lemon fizz / non al moscommeureur
·sour
· Lemon / grapefruit
· Sake High
· Oolong Hi / Jasmine High / Ice Tea High
· Fruit type
· Kishu ripe plum wine
·Sake
Asahiyama
·Soft drink
· Orange juice / grapefruit / cola / ginger ale / tonic / oolong tea / jasmine tea / ice tea / milk / ice coffee
2018/08/01 update